Tomatometer & Audience Score
91%
84%
Genre:
Action, Fantasy, Sci-Fi,
Studio:
© 2019 Warner Bros. Entertainment Inc. SHAZAM! and all related characters and elements are trademarks of and © DC Comics.
Rating:
PG13
- Some material may be inappropriate for children under 13.
Trailer of Shazam! (2019) .
Summary:
We all have a superhero inside us, it just takes a bit of magic to bring it out. In Billy Batson's (Asher Angel) case, by shouting out one word—SHAZAM!—this streetwise 14-year-old foster kid can turn into the adult Super Hero Shazam (Zachary Levi), courtesy of an ancient wizard (Djimon Hounsou). Still a kid at heart—inside a ripped, godlike body—Shazam revels in this adult version of himself by doing what any teen would do with superpowers: have fun with them! Can he fly? Does he have X-ray vision? Can he shoot lightning out of his hands? Can he skip his social studies test? Shazam sets out to test the limits of his abilities with the joyful recklessness of a child. But he'll need to master these powers quickly in order to fight the deadly forces of evil controlled by Dr. Thaddeus Sivana (Mark Strong).
Some photos of Shazam!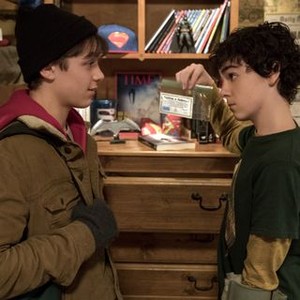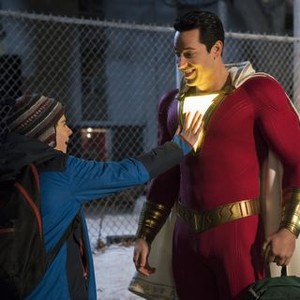 While standard HD has 1920x1080 pixels, 4k Ultra HD has a minimum of 3840x2160 pixels. 4K Ultra HD is available on your favorite devices and TVs including Roku, LG, and Samsung.
Reiviews for Shazam! (2019)
Matthew Norman
London Evening Standard
After lazy reliance on phoney gravitas and blundering with its first serious stab at levity with Aquaman, DC has found a comic torch-bearer of pure heart to illuminate the path of righteousness ahead.
David Edelstein
New York Magazine/Vulture
It's a bummer when the bad guy shows up and Shazam becomes like every other superhero movie - worse, really, because the storyboarding is so poor that it's hard to tell what's going on. In the climax, Sandberg misses nearly every one of his marks.
Alan French
We Bought a Blog
The triumph from the movies comes from the teen angle to the story. Shazam! shares more stylistic and comedy influence from Spider-Man than most DC comics.
"Shazam!" is the funniest, sweetest and most innocent movie in the DC Extended Universe - a sign that it is at last ready to compete with Marvel.
Shazam! is a fun, exciting, and delightfully-amusing superhero flick that boasts a great sense of humor and a strong performance from star Zachary Levi.
Noah Berlatsky
NBC News THINK
Even in its most inspired moments... "Shazam!" can still feel weirdly disjointed.
Vincent Schilling
Indian Country Today
Great! Shazam is everything a superhero movie should be. It's the seventh movie in the DC extended universe, but likely the best of all to date thanks to Shazam actor Zachary Levi.
Josh Wilding
ComicBookMovie.com
Director David F. Sandberg has delivered a strong introduction for the original Captain Marvel with Shazam! and this is an absolute must-see for any comic book fan out there. The DCEU has a new Super Man and his name is Zachary Levi.
For a long, glorious stretch, Shazam! plays like the anti-Nolan antidote it is.
Nicolás Delgadillo
Cultured Vultures
Shazam! is a pure, fun delight that has a lot of laughs, a lot of action, and a family-centric story that's unapologetically sweet, and all the better for it.
In context and considering the movie monstrosities that have preceded it, Shazam! is irrepressibly fresh and wholesome, and ultimately suggests a new and exciting future for the stars of the DC Extended Universe. Up, up and away!
Matthew Lickona
San Diego Reader
Director David F. Sandberg remains a horror guy at heart (Lights Out, Annabelle: Creation), and the ping-ponging between yuks and yikes leads to a pretty nasty case of aesthetic whiplash.
More Like This